A Critical Compon

ent

for Ensuring Patient Comfort and Life-Saving Temperature Management
Heaters are an essential component for a wide variety of medical device applications. Surface, intravenous, and patient warming systems and devices provide critical temperature control of blood and fluids to ensure patient comfort and positive health outcomes. With the global medical device market expected to grow from over $495 billion in 2022 to nearly $719 billion by 2029[i], the demand for safe, high-performing heaters is sure to increase among medical device manufacturers worldwide.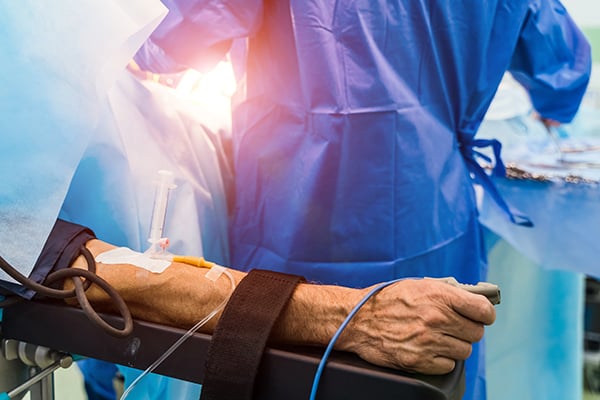 With this increased demand comes the manufacturing challenges of creating precise, reliable devices—often in miniaturized forms that adhere to stringent safety standards—that enable faster, more accurate point-of-care diagnostics and more efficient patient care delivery.
Partnering with Medical Device OEMs to Improve Patient Outcomes
Backer Hotwatt has been partnering with leading medical device OEMs for over 20 years to create custom heaters that support both existing and novel technologies. Our heaters are used in applications to provide care and comfort for patients and for critical applications that require precise temperature control.
The exacting nature of blood and fluid warming devices does not lend itself to off-the-shelf heaters. Devising the right heating source requires close collaboration with a knowledgeable engineering partner to achieve the right form factor and pinpoint the exact wattage needed.
A few key questions to consider in designing a blood or fluid warming heater include:
What is the fluid you wish to heat?

What are the starting and end temperature points?

What is the volume of fluid?

What is the circuit voltage?

What is the shape and size of the design space the heater must accommodate?
Our team works with you to answer these and other questions to determine the best solution for your heating application.
Delivering Optimal Heat for Excellence in Patient Care
Normothermia, or maintaining normal body temperature, is key to healthy cell functioning. The ability to heat blood and fluids to promote healthy cell functioning helps patients feel more comfortable and can help the body heal faster, especially after surgery. Administering blood or fluids requires medical devices capable of warming the blood or fluid rapidly and accurately.
Backer Hotwatt has collaborated with numerous medical device manufacturers to design heaters for a variety of blood and fluid warming applications. Working with a leading manufacturer of blood warming devices, we designed a heater to fit within the small design envelope of their product. The heater works by heating saline in a plastic heat exchanger tube, which, in turn, heats blood in an adjacent tube and warms it to the right temperature. The heater enables the temperature to be controlled very precisely, and once the blood is warmed, to maintain a consistent, optimal temperature.
Keeping patients warm in a variety of settings is critical to ensuring the best outcomes. Backer Hotwatt recently worked with an OEM to design a heater for a blanket used to maintain body temperature for patients undergoing surgery. Surgery presents its own set of challenges, so keeping blood and fluids within safe parameters is vital for maintaining normal body temperature. Even a mild drop in temperature can lead to undesirable outcomes, such as site infections, bleeding diatheses, or increased morbidity.
A heater is contained in a chamber within the blanket the patient lies upon. The fluid is warmed and pumped through channels that allow warm air to blow through holes and maintain or change body temperature as needed. There are different ratings for the blanket, so four different heaters are used depending upon the desired temperature range.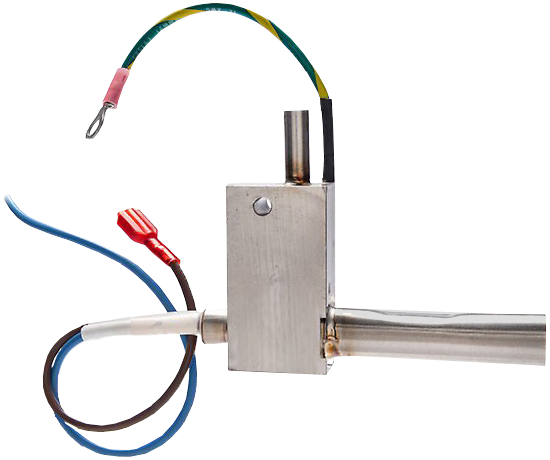 One of our longest-running relationships is with an incubator manufacturer. Newborns, such as those who are born prematurely or have low blood pressure, require a sterile, enclosed environment in which a set level of humidity must be maintained. To achieve the desired level, Backer Hotwatt designed a heater that heats water as it flows through an aluminum sink, which creates moisture to maintain the correct humidity level. Maintaining a stable humidity level minimizes evaporative heat loss and provides a stable environment for the infant.
A Custom Heating Solution for Your Application
Backer Hotwatt can design and engineer a custom heating solution for your vital healthcare application. With more than 20 years of experience with leading OEMs, we have created a range of compact, high-performing heaters that meet the highest purity standards and achieve varying flow and temperature requirements. We've seen our customers' medical devices in action and understand the critical nature of providing safe, reliable blood and fluid warming, as well as the regulatory environment governing these devices.
Our personal, one-on-one product design and engineering process enables us to quickly develop prototypes to speed development and time to market. We can help you custom design and manufacture the best heater for your medical device application.
We understand that lives depend on the work we do manufacturing heaters for medical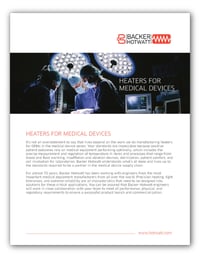 device OEMs. We've created a resource, "Heaters for Medical Devices," to help OEM engineers see how we serve this industry. You can download it here or click on the image.
[i] https://www.fortunebusinessinsights.com/industry-reports/medical-devices-market-100085