Heat Switch Point Rails and Machines to Keep Tracks Free of Ice and Snow
There are many moving parts when it comes to keeping trains running safely and reliably 24/7. Rail switches—and the movable rails they control—and switch points must be kept free and clear of ice and snow. The best way to remove snow and ice is to heat the switch points rails and the switch machines that control them. Ancillary heating of the rail ballast beneath the switch machines may also be necessary.
Choosing a durable, effective heater for your rail transport system helps to ensure the overall safety and reliability of your operations. But which heater is the right one for your application?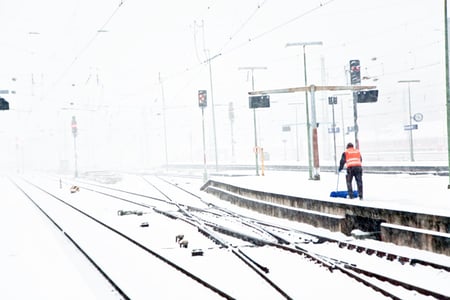 What's the Best Heater for My Rail System?
Hotwatt has been manufacturing heating elements for rail and other industries for over 50 years. Our well-engineered, rugged heaters are made to our customers' specifications and are designed to last many seasons.
There are a few things to consider in determining the best heat source for your rail system, including:
· How much thermal conductivity can the heat source send?
· What is the rail size?
· What wattage, length, and diameter are needed?
· How many pounds are being transported per yard?
Hotwatt offers two primary options for heating the outside or running rail that switches the direction of a train: a flat tubular switch point heater and a round tubular switch point heater.
The Hotwatt flat tubular heater delivers more heat into the rail than conventional round tubular heaters. The geometry of the flat heater allows for 40% surface area contact with the rail, whereas the round tubular heater allows for 15% surface area contact. This heater, a constant wattage heater, delivers more heat through thermal conductivity. These heaters are coiled for easy transportation to the site and on the track, and can be made of stainless steel or Incoloy.
The Hotwatt round tubular heater is a cost-effective solution that comes in a variety of lengths and diameters. These constant wattage heaters are placed on the outside of the running rail and are attached via clips on the rail braces or clips on the inside of the rail. These heaters are coiled for easy transportation to the site and on the track and can be made of stainless steel or Incoloy.
While a high-quality heater is essential to effectively heating your rails, it is critical to have the heaters professionally installed. Gaps along the rail can cause glowing red areas, which indicate heat loss and that the heaters are not operating optimally. Diligent installation is key in eliminating wasteful gaps so that your rail heating system operates at maximum efficiency.
Rail Heaters for All Applications
In addition to our primary rail heaters, Hotwatt offers heaters and accessories for use in other situations. These include:
· Movable Point Frog Heater: A movable point frog is placed on the frog, a common crossing, to remove the gap that can exist in a fixed frog. This is usually applied to augment larger rail turnouts. The frog is partially outfitted with round or flat switch point heaters and then small crib heaters are placed in between the ties under the frog.
· Ballast Heater: As an ancillary heating source, a running rail and/or cradle heater is placed in the ballast rock to heat the ballast. Weatherproof, the rugged ballast heater system performs well in harsh conditions and is a great, cost-effective solution for keeping rails free of ice and snow.
· Running Rail Heater: A different application of a switch point heater using either a flat or round heater with a wraparound clip or bolt-on clip. The heater is placed on a normal running rail, not at a switch point, and may have multiple segments to attain greater length.
· Crib Heaters (Switch Rod Heaters): This heater is ideal for harsh, demanding environments. The heater placed directly under the switch rods on top of the rail ballast and can be attached to the rail tie to prevent any upward movement that might interfere with the switch rod operation.
The U-shaped construction of this round tubular "hairpin" heater enables it to be placed within a cradle and held in place. The hairpin can be made of stainless steel or Inconel and cradle is made from coated cast steel. This combination provides a reliable, cost-effective solution to switch rod heating.
· Hollow Steel Ties: Hollow steel ties provide solid, reliable track infrastructure to keep the track from giving way to the ballast, as happens with many wooden ties. These ties are typically part of a prefabricated track segment, but on occasion can be put in place with concrete ties (as opposed to wood ties).
If a channel assembly is needed, Hotwatt can provide the entire assembly along with the heater. These heaters are typically 7 to 10 feet long and are between 100 and 200 watts per foot.
We're Here to Help
Hotwatt can help you design and engineer the right heating solution for your rail transport application. We excel at custom manufacturing of heaters for railways; we build heaters to any length and size, and we have the largest selection of diameters and alloys available. Our personal, one-on-one product design and engineering process enables us to quickly develop and deliver an optimal heating solution.
Using the highest quality materials and proprietary manufacturing techniques, our rail heaters are reliable and built-to-last. Contact an engineer today to set up an exploratory consultation. We look forward to working with you.