Determining the exact wattage you need for your heater can be frustrating. You may start with an assumption, "I need 500 watts," and you have some sample heaters manufactured to test it out. The samples arrive … and none hit the mark.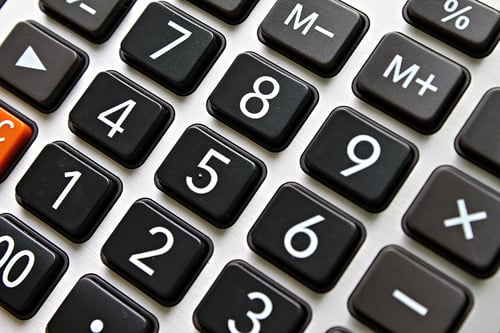 A simple tool—a variable voltage transformer, such as a Variac or Powerstat—can take the guesswork out and reduce the time it takes to determine the right heater for your application. These nifty little devices have been around for close to 100 years but are often overlooked when it comes to using them as a testing tool.
Streamline the Design and Development Phase
Often, engineers order heater samples from us to test a range of wattages when trying to pinpoint the right output. These samples can take anywhere from two to four weeks, valuable time that could be recouped by using a variable voltage transformer instead. In addition to the lead time, once you receive the samples, you have to plug each heater into different voltages to get different wattages, which is also time consuming.
By using a variable voltage transformer to adjust the input voltage, you can easily test a range of wattages, as seen in the chart below, in which the base unit is highlighted.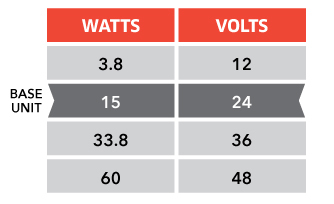 Portable models are the most efficient and allow greater testing flexibility, especially for sensitive electrical applications or smaller applications such as micro heaters. You can take the transformer to a test bench and test a variety of outputs—in different environments and at varying temperatures and times.
The heating aspect of a project is often the last consideration with engineers, chemists, test technicians, process engineers, and others involved in the design phase, which puts them up against the clock. A variable voltage transformer streamlines the design and development phase and allows the design team to pinpoint the exact wattage needed.
Stop Blowing Out Your Heater
Recently, a Backer Hotwatt customer was trying to determine the wattage he needed for an application. But each time he ran the sample heater, it blew out the heater because the wattage was too high. At our recommendation, he then used a variable voltage transformer, which enabled him to test a variety of combinations—and ultimately, cut the wattage in half! Based upon the test results, we were able to design a heater with lower wattage to meet his precise voltage requirements.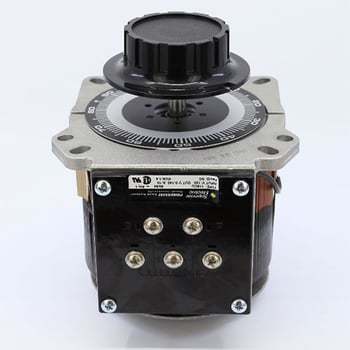 Know Your Voltage Transformer Range
There are some limitations to using a variable voltage transformer. The upper voltage range is limited, so in some cases it may be necessary to order a few different heaters in order to cover your test wattages. But generally, these transformers work well for a wide variety of heater sizes. They are especially well suited for critical micro heater applications because you are dealing with small, minute adjustments and more variables.
In addition to minimizing the number of samples needed, determining your wattage requirements with a variable voltage transformer may allow you to use an in-stock heater. In cases where a variable voltage transformer does not meet your testing needs, Backer Hotwatt can work with you to customize a heating solution. Why Choose Backer Hotwatt? Backer Hotwatt, Inc. has been manufacturing custom and stock electric heating elements for over 65 years. Backer Hotwatt is a quality supplier to industrial users and OEMs in the medical, commercial, packaging, instrumentation, aviation, transportation, refrigeration/air conditioning, and military fields.
Our heaters include cartridge, air process, immersion, strip and finned strip, tubular and finned tubular, band, foil, flexible Glasrope®, crankcase, and ceramic heaters. We're here to help you heat things up! Contact Backer Hotwatt today about your heating application needs and questions.