Powering the Future
In the quest to find cleaner, more sustainable sources of energy, hydrogen fuel cell technology is a promising area. Hydrogen is present in water and nearly all living things. As a renewable source of energy, it has enormous potential to generate power, electricity, and heat.
As a fuel option for both personal and commercial vehicles, hydrogen fuel cell technology is advancing at a rapid clip.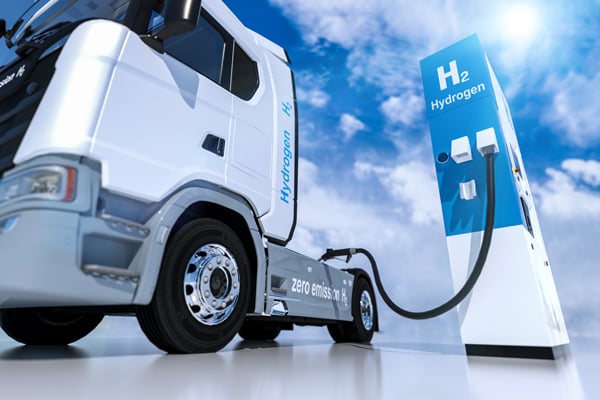 Toyota has been working on fuel-cell vehicles since 1992 and introduced the Mirai, a hydrogen fuel cell sedan, in 2014. The company is now focusing on mass transportation projects in Europe, as well as light commercial vehicles and heavy-duty trucks.[i]
Hydrogen is an efficient fuel, and its many advantages include being readily available and renewable with no emissions. As an emerging technology, however, there are some obstacles to widespread adoption, such as having little infrastructure in place, as well as the expense of delivering hydrogen safely to the consumer.
In time, these obstacles will likely be overcome as additional infrastructure is built and new technologies are developed for transporting and storing hydrogen. For example, in California, more than 176 hydrogen stations—enough to support approximately 250,000 fuel-cell vehicles—will be built by 2026.[ii]
Fueling Clean, Sustainable Energy
As governments—primarily in Europe and Asia—seek environmentally sustainable energy solutions, the demand for hydrogen fuel cell vehicles is expanding. Hotwatt is at the forefront of this exciting technology, working with innovative companies to develop heaters to meet the precise requirements of hydrogen fuel cell engines.
As shared by Backer Hotwatt's president, Jamie Holley: Hotwatt is in a fortunate position. We are intimately involved in advancing hydrogen fuel cell technology; our broad technology base enables the use of different heating form factors that allow fuel cell engineers to put the precise amount of heat exactly where it is required in the system.
The process of extracting energy is a clean, relatively simple process. Hydrogen atoms are passed through the anode of a fuel cell and stripped of their electrons. Positively-charged protons go through the membrane to the cathode and negatively-charged electrons go through a circuit and produce electricity, with water and heat byproducts of the process. [iii] Polymer electrolyte membrane fuel cells—also known as proton exchange membrane fuel cells—are primarily developed for transportation-related applications.
Heating Hydrogen Fuel Cell Stacks and System Components
In creating hydrogen fuel cell engines for use in cold weather environments, it's essential to bring the fuel cell stack and system components up to temperature. In temperatures above -15C, passive preheating (using the system-generated heat) can be an acceptable method to bring the stack up to temperature. In environments that are less than -15C, active preheating is required. One of the best methods to actively preheat the stack is to heat the system coolant.
Hotwatt designs different types of heaters based on the amount and type of coolant, time required to get the material to the target temperature, and the coolant reservoir design. These heaters can also perform double duty as a bleed resistor for residual energy. Other system components may also require dedicated heat sources to bring them up to temperature so that the system can work properly.
Sensor manifolds, valves, nozzles, and hydrogen gas lines may all require low-wattage heaters to boost the system performance in cold weather applications. Hotwatt's knowledgeable engineers and broad technology base enable us to design solutions based on the unique geometries, materials, and temperature requirements of each system component.
A Flexible, Powerful Heating Solution
One of Hotwatt's current initiatives—on fuel cell engines for heavy-duty commercial vehicles operating in challenging environments—is helping to create greater efficiencies and a greener planet. Working in close partnership with the customer, a fuel cell engine company, Hotwatt engineers created a cold weather heat package to install on multiple system components that required a high degree of flexibility and adhesion, as well as the ability to heat varying liquids across a wide range of power requirements in a short period of time.
"The customer looked at three suppliers, got samples, and after running tests, it was pretty obvious that our heater was the only one that could achieve their desired outcomes," says Holley. The customer originally approached Hotwatt in order to meet a market requirement that the fuel cell engine be operable in environments as cold as -30 degrees Celsius.
Heaters were required to keep coolant and water from freezing in hydrogen inlet and outlet lines, valves, and internal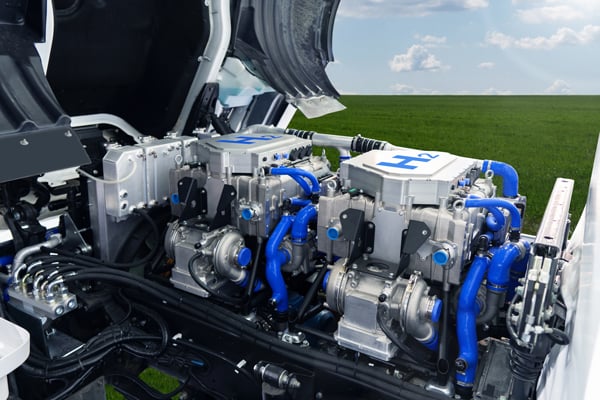 engine compartments. Flexibility and adhesion were key factors, considering the potentially harsh conditions the engines would be operating in. Collaborating with the customer, Hotwatt designed a wire heater and a flat silicone heater to meet the unique requirements of heating the hydrogen fuel cell engines.
Heater harnesses of varying lengths—up to 12 feet—were designed to install around piping that feeds into the hydrogen inlet and port areas, and the valves that exhaust water travels through. The heaters preheat the hydrogen coming in, so that ice is not created when the liquid meets the fuel cell and in areas where water travels or moisture builds up, ensuring that ice does not form.
Deeper inside the engine, flexible, flat silicone heaters were created to heat small areas without being invasive. As these compartments are compact and hard to access, the heaters needed to be surface mounted on the components. For example, in these high humidity environments, check valves (which are used to ensure air doesn't flow back into the system when the engine is shut down) can develop condensation and freeze in an open position. As an additional failsafe, the heaters for these systems' components have built in thermostats for over-temp protection.
The hydrogen fuel cell engines are now in production and are meeting the performance challenges associated with running fuel cells in extreme cold weather environments. "It's exciting to be a part of this innovative technology. Our team has an uncanny ability to comprehend, interpret, and embrace each of our customer's visions. Fuel cell technology is a perfect fit for us. This emerging field allows us to flex our knowledge and skill, and to help our customers perfect sustainable energy solutions that will have a positive impact for generations to come," says Holley.
We Can Help Advance Your Technology
Backer Hotwatt specializes in developing thermal solutions for challenging engineering problems including the largest product line available of micro-cartridge heaters. Established in 1952, we are a trusted source of superior quality heating elements for OEMs in the medical, industrial, environmental, semiconductor, commercial, instrumentation, aviation, transportation, and military fields.
We can help you custom design and manufacture the best heater for your application. Contact an engineer today to set up an exploration consultation. We look forward to helping you soon.
[i] https://www.cnbc.com/2022/05/18/toyota-ramps-up-efforts-to-look-at-potential-of-hydrogen-vehicles.html
[ii] https://www.greencarreports.com/news/1133575_california-projects-100-retail-hydrogen-stations-by-the-end-of-2023
[iii] https://www.fchea.org/fuelcells