Massachusetts-based custom-heater manufacturer, specializing in heating applications for the laboratory and scientific research and projects sectors, to be in Philadelphia for this year's trade show
For over a half-century, Backer Hotwatt has been working with engineers from the most important medical device OEMs and laboratory and science research industries in the world, and will be exhibiting at Pittcon 2023 in Philadelphia, PA from March 18 through 22.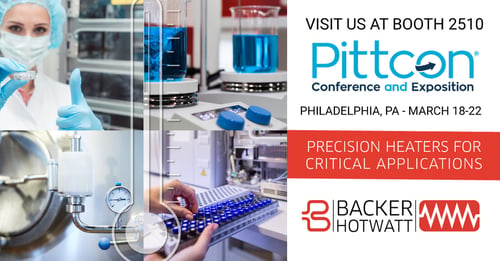 Pittcon is one of the foremost laboratory science conferences. Pittcon's exposition enables attendees to participate in demonstrations and product seminars, view the latest laboratory instrumentation, and speak directly with technical experts.
The trade show's technical program offers more than 1,100 sessions led by top scientists and research pioneers on a broad range of topics including nanotechnology and materials science, industry and manufacturing, and energy and environmental. This year's Wallace H. Coulter lecture on March 19 will feature a lecture titled, "Venturing Into Analytical Chemistry Using Photonic Crystals."
The Pittcon Conference and Exposition provides an opportunity for visitors to meet exhibitors such as Backer Hotwatt, with representatives available at booth #2510 to speak with people curious about heating solutions—standard and custom—for their laboratory and medical biotechnical needs.
Backer Hotwatt is a major supplier for several processes used within laboratory and science project sectors. Its heating elements are used in blood, urine, and tissue analysis, ovens, incubators, water baths, hot plates, test tube heating, and cryogenics in labs, schools, and scientific equipment across the nation. Backer Hotwatt also has dry heat, disinfecting, and cleansing components that are used in the sanitization and sterilization of equipment and tools. As examples, cartridge heaters are used in ventilators and X-ray processing equipment. Plastic extruders and molders use cartridge, tubular, and flexible heaters to make medical-grade tubing, packaging, and many other components for the medical device and equipment industries.
Jamie Holley, president of Backer Hotwatt, says, "We are eager to talk with the attendees at Pittcon about the many heating options available for their laboratory science and instrumentation needs. We understand how vital precise heat and temperature are in providing assurance of safety, reliability, and optimal performance of laboratory equipment. We collaborate with our customers to apply our broad technology, experience, and deep knowledge to create custom heating solutions for their unique requirements. We look forward to people stopping by booth #2510 to talk about any heating needs they have."
Click here to register for PitCon 2023.
For more information about Backer Hotwatt, visit www.hotwatt.com or call (978) 777-0070.
About Backer Hotwatt
Established in 1952, Backer Hotwatt is a leading manufacturer of resistance heating elements. Starting as a supplier of open coil heating elements to the appliance industry, the company has grown to become a major OEM supplier to the industrial, medical, commercial, packaging, instrumentation, aviation, transportation, and military industries.
Its extensive product line includes cartridge, air process, immersion, strip and finned strip, tubular and finned tubular, band, foil, flexible glasrope®, crankcase, and ceramic heaters. Backer Hotwatt offers the largest product line available of micro-cartridge heaters—including the smallest heater on the market, SunRod—to help solve difficult engineering and performance challenges.
###