Massachusetts-based custom-heater manufacturer serving the rail industry creates an easy resource guide for rail transit companies—both in the freight and passenger rail segments.
Backer Hotwatt has been manufacturing heating elements for the rail and other industries for over 50 years. Backer Hotwatt's product line fills the need for engineered, ruggedized heaters made to customers' specifications. Specific to the rail and transit requirements and demanding environments, these units are designed to last dependably through many seasons by using high quality materials and proprietary manufacturing techniques.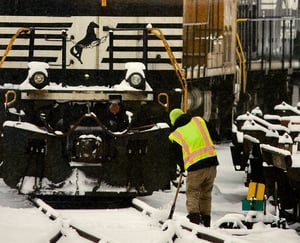 The dedicated webpage offers information on the expanded product line of heaters—custom made to specifications—transit customers can reliably expect from Backer Hotwatt. The company excels at custom manufacturing of heaters for railways; building heaters to any length and size, offering the largest selection of diameters and alloys available. Because customers buy directly from Backer Hotwatt, this also means that freight and passenger transit customers receive better technical support and more customizable options than standard heating offerings elsewhere.
Railway heating products and applications include Flat Tubular Switch Point Heaters, Round Tubular Switch Point Heaters, Crib Heaters (Switch Rod Heaters), Movable Frog Heaters, Running Rail Heaters, Ballast Heaters, and Hollow Steel Ties. Each section of the resource webpage offers valuable information, including specifications, making it a seamless intelligence-gathering experience for engineers and those requiring detailed information. Backer Hotwatt heaters perform in the harshest conditions and are the most rugged and longest-lived heaters on the market; this, combined with an affordable price and customization, make it them optimal solutions.
Jamie Holley, president of Backer Hotwatt, says, "Backer Hotwatt is known for solving challenging solutions, often that other won't—or can't—provide. We excel in this arena and welcome all manner of custom heaters for railways: we build them to any size, and have the largest selection of diameters and alloys available. And we back our manufacturing up with superior technical support and customizable options over offerings elsewhere. Transit customers—both in freight and passenger sectors—love this distinction."
Click here to visit the dedicated resource page on Railroad and Rail Transit Heating Systems. For more information about Backer Hotwatt, visit www.hotwatt.com or call (978) 777-0070.
About Backer Hotwatt
Established in 1952, Backer Hotwatt is a leading manufacturer of resistance heating elements. Starting as a supplier of open coil heating elements to the appliance industry, the company has grown to become a major OEM supplier to the industrial, medical, commercial, packaging, instrumentation, aviation, transportation, and military industries.
Its extensive product line includes cartridge, air process, immersion, strip and finned strip, tubular and finned tubular, band, foil, flexible glasrope®, crankcase, and ceramic heaters. Backer Hotwatt offers the largest product line available of micro-cartridge heaters—including the smallest heater on the market, SunRod—to help solve difficult engineering and performance challenges.