Engineers can easily explore the laser and optoelectronic solutions created for precise heat for unique needs.January 17, 2023 (Danvers, MA)—Backer Hotwatt serves OEMs in the opto-electronics, medical, semiconductor, analytical equipment, packaging, aviation, transportation, refrigeration/air conditioning, and military fields. Advancements in photonics have driven the adoption of laser technologies across a wide array of applications. Increasingly, laser-based solutions are being developed to solve problems in cutting, marking, ablation, and measuring applications. High diode lasers are also used in 3D-sensing applications in gaming and PC markets. Small form factors, uniform heating, and higher watt densities are critical to performance in high-reliability optical technology devices.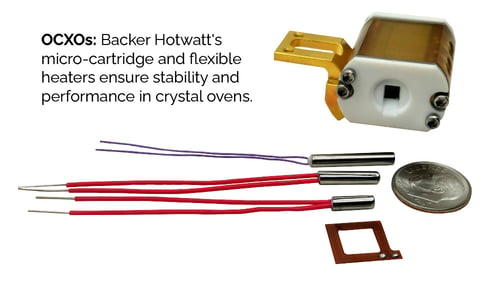 To better help people in diverse applications find solutions that best suit their requirements, Backer Hotwatt has created a resource page so customers and prospects can explore the different laser and optoelectronic applications it creates precise heat for, and the various standard and custom cartridge heaters that are available for unique needs.
Its comprehensive product line serving laser and optoelectronic OEMs, and ultimately, patients and customers includes heaters for the following applications:
Stabilizing Temperature in Lasing Mediums

Oven-Controlled Crystal Oscillators (OCXOs) & Crystal Mounts

Cryogenic and Chilling Systems
Lasers are in products spanning industrial applications to innovative medical laser technologies in healthcare and cosmetics—many of which are considered minimally invasive medical procedures. Among the long list of laser applications are the following: CNC, metal fabrication, cutting, drilling, welding, marking and engraving metal and non-metal materials, surface processing, 3D printing, industrial and surgical robotics, metrology, factory automation, industrial and medical ablation, cosmetic procedures, and ophthalmology.
Quartz-based frequency control devices provide exceptionally high levels of temperature stability. Maintaining a quartz crystal's constant operating temperature avoids fluctuations and retains stability in the specified frequency of the oscillator that might otherwise be impacted by ambient temperatures—vital because the frequency output depends on the quartz crystal's reliable temperature.
To operate effectively, ovens are required to keep this constant high temperature, so it is imperative to thermostatically control the temperature to retain the stable signal source of the oven-controlled crystal oscillators (OCXOs). Backer Hotwatt's micro-cartridge and flex circuit heaters are used to stabilize crystal mounts so OCXOs can provide lasting stability of these lasing mediums.
Achieving freezing temperatures—and controlling the environment—requires a specialized system, which relies on heat, as thermal conduction is one common method used in cryogenic and chilling systems. Cryogenic engineers are concerned with directing and organizing the flow of heat in these applications. Maintaining heat (and cold) in a steady-state manner requires precise heat and temperature management in a closed-loop system. Backer Hotwatt manufactures shaped (and custom) cartridge heaters that are used to stabilize pressure in cryogenic systems.
"We are robustly positioned to serve the photonics and optoelectronic industries, as we are experts in getting precise heat into ever smaller spaces. Our ability to provide sustained, high heat, and also heat that can be controlled for specific environments that require cyclical fluctutations, is a strength of ours. We work closely with our customers to ensure we deliver the optimal solutions for their products' durability, performance, and functionality," says company president Jamie Holley.
Click here to visit the dedicated resource page on photonics and optoelectronics. For more information about Backer Hotwatt, visit www.hotwatt.com or call (978) 777-0070.
About Backer Hotwatt
Established in 1952, Backer Hotwatt is a leading manufacturer of resistance heating elements. Starting as a supplier of open coil heating elements to the appliance industry, the company has grown to become a major OEM supplier to the industrial, medical, commercial, packaging, instrumentation, aviation, transportation, and military industries.
Its extensive product line includes cartridge, air process, immersion, strip and finned strip, tubular and finned tubular, band, foil, flexible glasrope®, crankcase, and ceramic heaters. Backer Hotwatt offers the largest product line available of micro-cartridge heaters—including the smallest heater on the market, SunRod—to help solve difficult engineering and performance challenges.