Massachusetts-based custom-heater manufacturer is creating precise heat for environmentally sustainable energy solutions and an easy resource guide for hydrogen fuel industry applications.January 27, 2023 (Danvers, MA)— Backer Hotwatt creates custom solutions for hydrogen fuel cell engines that are required to operate in challenging environments, working closely with customers to design heaters specific to their engines' specifications.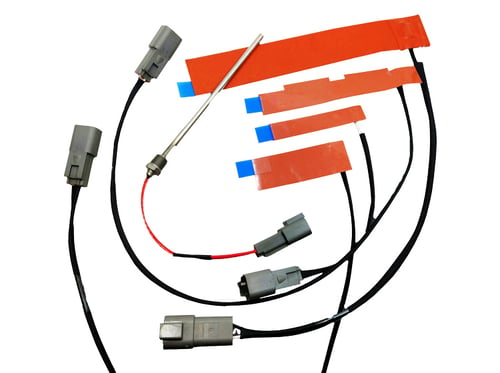 The dedicated webpage offers information on what hydrogen fuel cell technology is, and explains why engine systems and components need to be heated. Hydrogen fuel cells are required to operate in challenging environments—some in temperatures as cold as -30 degrees Celsius—and the resource page further discusses why engineers focus on the fuel cell stacks, compartments, and components where liquids such as hydrogen or exhaust water may flow through or build up.
Heaters are required to keep coolant and water from freezing in hydrogen inlet and outlet lines, valves, and internal engine compartments. Backer Hotwatt's team considers many factors, including flexibility, adhesion, geometries, environmental conditions, and how the heater will interact with surrounding materials. Backer Hotwatt designs a variety of heaters for fuel cell engines, such as heater wire harnesses of varying lengths that are installed around inlet and transfer hoses and pipes, as well as flat silicone heaters that heat smaller areas without being invasive. Silicone heaters are ideal for compact compartments and areas that present difficult mounting options. These heaters can be made self-adhering and will lie flat on the surface for maximum heat transfer.
Backer Hotwatt's expertise in designing and manufacturing heaters for some of the world's most challenging applications enables it to apply knowledge and experience to emerging technologies such as hydrogen fuel cell engines. Backer Hotwatt serves OEMs in the hydrogen fuel cell technology, opto-electronics, medical, semiconductor, analytical equipment, packaging, aviation, transportation, refrigeration/air conditioning, and military fields.
Jamie Holley, president of Backer Hotwatt, says, "Backer Hotwatt is on the leading edge of the rapidly emerging hydrogen fuel cell technology market. Our broad technology, experience, and deep bench of knowledgeable engineers enable us to design custom heating solutions—based on the unique geometries, materials, and temperature requirements—of hydrogen fuel cell applications. We are proud to be part of the initiative that is helping to power the future."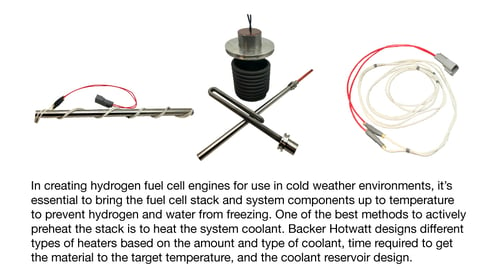 Click here to visit the dedicated resource page on hydrogen fuel cell applications. For more information about Backer Hotwatt, visit www.hotwatt.com or call (978) 777-0070.
About Backer Hotwatt
Established in 1952, Backer Hotwatt is a leading manufacturer of resistance heating elements. Starting as a supplier of open coil heating elements to the appliance industry, the company has grown to become a major OEM supplier to the industrial, medical, commercial, packaging, instrumentation, aviation, transportation, and military industries.
Its extensive product line includes cartridge, air process, immersion, strip and finned strip, tubular and finned tubular, band, foil, flexible glasrope®, crankcase, and ceramic heaters. Backer Hotwatt offers the largest product line available of micro-cartridge heaters—including the smallest heater on the market, SunRod—to help solve difficult engineering and performance challenges.